Match Review: Singapore Football Club vs German-Swiss All Stars
07-Oct-2023 15:00
League // Turf City 1

2

0

0

0

0

3
Referee - Ruslee // Assistans - N/A & N/A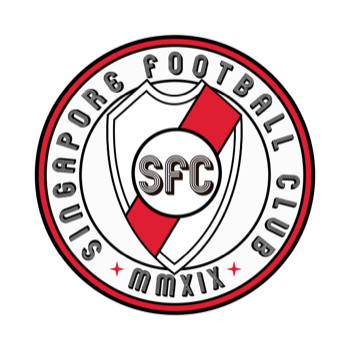 Singapore Football Club
Report
3 points to the SFC
SFC faced the Germans on a hot Saturday afternoon in their first match up of the season. SFC were keen to try to dictate play and possess the ball in the heat. We managed to do that because of a fast start with a goal inside the first 10 minutes by Akil from a perfectly placed Nick Marsh corner. Faz doubled SFC's lead 10 minutes later to make it 2-0 at the water break. Ataku added a third goal before half time. The conversation at the halftime break was to continue what we were doing. There was a bit of a lull, but in the last 20 minutes SFC managed to break down the Germans who were beginning to show signs of fatigue in the heat. Joe Claridge who was pulling the strings all afternoon scored the fourth before Ataku completed his hatrick and Liam rounded off the scoring at 7-0. MoM for SFC was Joe Claridge even though Ataku scored three goals. MoM for the Germans was Addy who was buzzing around most of the match and just unlucky not to get too many clear chances. Good luck to the Germans in their matches ahead.
STATS
Yellow Cards
Mark Addy
Gullzar Khan
Joseph Sanderson
Scoring
Akil Pompey
Ryosuke Ataku
Ryosuke Ataku
Ryosuke Ataku
Joe Claridge
Fazrul Nawaz
Liam Shotton
Assists
Nick Marsh
Joe Claridge
Joe Claridge
Joe Claridge
Joe Claridge
Fazrul Nawaz
Liam Shotton
Man Of the Match
(opponent)
German-Swiss All Stars
Report
Downward trend continues for GSAS
Was it the heat, or the haze? In any case, it was a complete "off day" for the team. Too many individual mistakes, and basically beaten by SFC in every department. We could hardly hold on to the ball, lost most 50/50 situations and were unable to put any form of pressure on the rock-solid SFC defense. The result is a brutal reflection of how our heads dropped after 65 minutes or so. We conceded four late goals when we simply gave up. Such performances get punished in the Cosmo League. We quickly need to bounce back. We have shown in the earlier games this season that we can compete with most teams. A good start is this coming Saturday against the Vikings. Congratulations to SFC for a rock-solid team performance. And great job Ruslee in the middle.